Composite Post Insulators
Product Detail
Product Tags
Post Insulator special for badly polluted areas, high mechanical tension load, long span and compact power line. And have feature of light weight, small volume, unbreakable, anti-bend, high strength for anti-twist and strong explosion protection.
① Shed connected with core by integral forming
② Metal end fittings, core and sheds connected by new crimping process
③ The thickness of housing > 3mm, uniform thickness, confirm to IEC Standard
④ Acid resistant, high temperature resistant of epoxy fiberglass core
⑤ The material of metal end fittings is used with hot galvanization and technology of rare earth aluminum coating to avoid coating shedding when crimping, prolonging the service life of the product.
1. superior bending and tensile strength
2. electric corrosion resistance
3. excellent corona resistance
4. high pollution resistance
5. superior hydrophobicity/anti-water performance
6. aging resistance
7. anti-leakage trace
8. anti-ipulse property
9. shaking-proof
10. Good brittleness-proof property
11. light weight, convenient installation.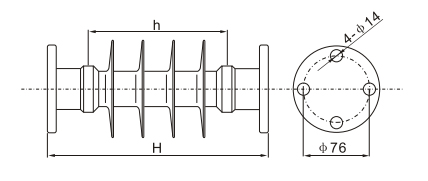 Type

No. 

Of 

Sheds

"X"

Length

inches

(mm)

Diameter

 Inches 

(mm)

Leakage 

Distance 

Inches 

(mm)

Dry Arc 

Distance 

inches 

(mm)

Lighting 

withstan 

voltage

Wet 

power 

frequency 

voltage

Top 

end 

fitting 

diameter

Bottom end 

fitting 

diameter

D/d

FZSW-10/4.0

5

250

110/85

400

160

95

40

76

76

FZSW-12/4.0

4

254

120/90

400

145

95

40

76

76

FZSW-20/4.0

6

315

137/110

580

215

145

50

76

76

FZSW-24/4.0

7

370

120/90

580

260

145

50

76

76

FZSW-36/12.0

19

550

140/110

1260

404

230

95

140

140

FZSW-40.5/4.0

15

560

123/80

1050

450

230

95

76

76

FZSW-66/10.0

21

905

166/136

1900

766

410

185

127

127

FZSW-72.5/6.0

15

890

170/140

1900

745

410

185

127

127

FZSW-110/5.0

30

1220

166/136

3150

1081

550

230

127

178

FZSW-220/2.5

57

2310

187/157

6300

2100

950

395

150

150

FZSW-252/4.0

55

2300

196/166

6300

2100

950

395

127

200
---
Previous:
composite polymer pin insulator
---
Write your message here and send it to us
Products categories