composite polymer pin insulator
Product Detail
Product Tags
1. Each has the advantages of small volume, light weight which is very convient for transportation and installation. Excellent hydrophobicity and migration.
2. Good corrosion resistance ,aging resistance and electrical properties.
3. Each composite insulator with acid,alkali,heat aging resistance and electric capacity ,good sealing performance,which can ensure the insulation moisture.
Our existing composite pin insulator ranges from 10kv to36kv, for higher voltage composite pin insulators,any demand welcome contact us for details.
Product name
High Voltage Epoxy Insulator
Material
Fberglass Rod + Silicone Rubber
Color
Red or Gray
Size
Customised Size
Features
1. Superior electrical properties, high mechanical strength

2. Good stain resistance, good anti-fouling performance, anti-pollution flashover

3.Small volume, light weight, lightweight structure, easy to transport and install

4. Good sealing performance

5. Strong impact resistance and shock resistance, good anti-brittleness and creep resistance

Application
High Voltage Line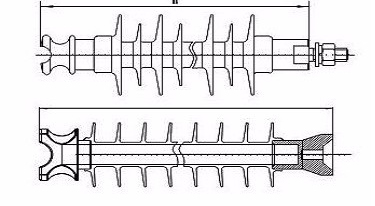 Product Specification

Product  code

Rated voltage

(KV)

Rated bending load(KN)

Diameter of the steel thread* Distance

(mm)

Clip wire range

(mm)

nomical structure height(mm)±10

Insulation distance

(mm)

Minimum nominal creepage distance

(mm)

Full-wave impulse impulse withstand voltage

(KV)

1 min wet

Power frequency withstand voltage

(KV)

FPQ4-1/3T16

1~3

3

16×40

Φ10-Φ30

190

100

230

40

18

FPA-10/2T18

6~10

2

18×40

Φ12-Φ18

225

138

390

95

30

FPA-10/2L18

6~10

2

18×85

Φ16-Φ30

225

138

390

95

30

FPQ3-10/4T16

6~10

4

16×40

Φ16-Φ30

220

120

320

95

30

FPQ-35/2T20

35

2

20×40

Φ16-Φ35

400

320

835

185

80
---
---
Write your message here and send it to us
Products categories